Technology helping to find cancer earlier
Circulating tumor cells (CTCs) are an early warning sign of cancer
Starting at the beginning of a tumor's growth, a very small number of cancer cells detach from the tumor and enter the bloodstream. These rare tumor cells circulate amidst trillions of blood cells. Appearing years before the disease spreads, circulating tumor cells (CTCs) act as a sentinel of cancer in the earliest days of tumor development. Some of them may become the seeds of metastases.
As the building blocks of the tumor, CTCs also contain the most complete information about a patient's cancer. These cells provide "real-time" information about genetic and protein mutations of tumors. Combined with information gathered from cell-free DNA in the blood, CTCs provide a comprehensive understanding of a patient's cancer dynamics and allow for the detection of cancer at the earliest stages of its development.
Our technology is designed to detect cancer earlier
Rarecells' proprietary ISET© (Isolation by Size of Tumor cells) device is a highly accurate, non-invasive liquid biopsy technology, designed to detect cancer earlier and prevent metastases.
ISET© extracts Circulating Tumor Cells (CTCs) from the blood using a powerful size-based isolation system, keeping CTCs intact and ready for morpho-molecular analyses. ISET© also extracts circulating giant cells and tumor cell clusters (micro-emboli) from blood, without loss.
Our device is a certified CE-Mark In Vitro Diagnostic (CE-IVD) with the demonstrated unparalleled ability to extract down to a single cancer cell from among 50 billion blood cells in a 10 ml blood sample.
Rarecells' early detection cancer tests leverage AI-powered analyses of proteins (immunomorphological profile) and DNA (methylation analysis and NGS) from the intact CTCs isolated by ISET. This provides valuable insights that allow cancer to be treated years ahead of a current typical diagnosis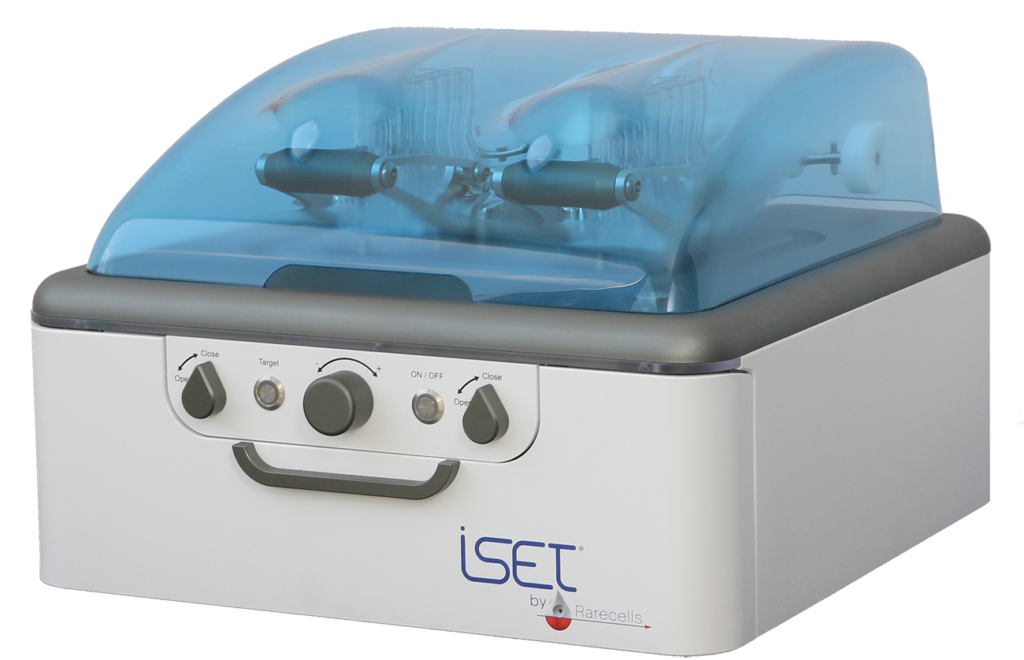 A strong base of published evidence
ISET®'s unparalleled sensitivity and specificity have been established through 110+ high-level, peer-reviewed and independent scientific publications. ISET® has proven its clinical value in studies with more than 3,400 patients and 1,200 healthy subjects as controls for virtually all types of solid tumors and the main types of leukemia. Studies demonstrated the efficacy and utility of tests using ISET®-collected cells in early detection of cancer, cancer prognosis, and non-invasive theranostics.