Working with researchers to propel care forward
ISET® technology provides researchers with unique benefits.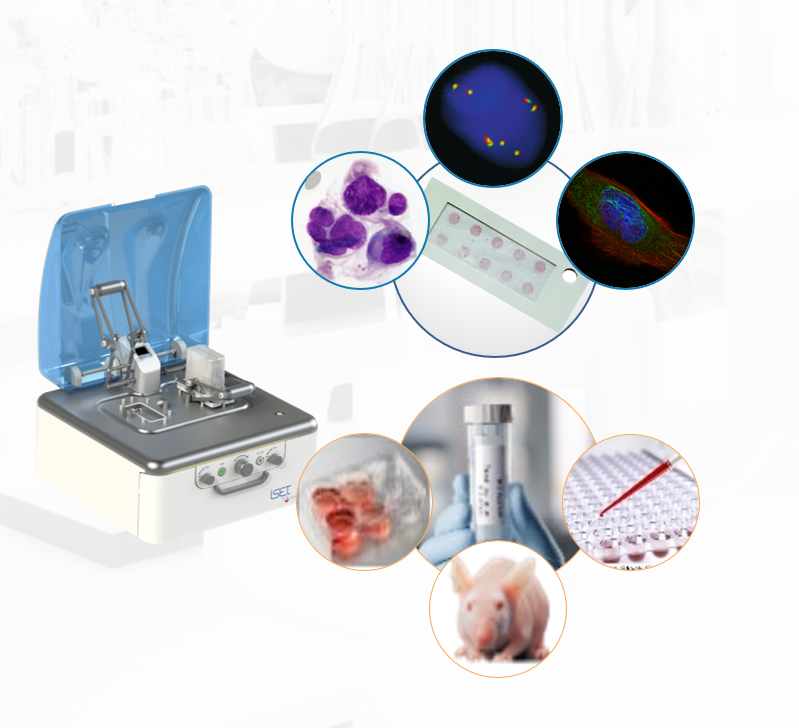 The ISET© non-invasive testing technology enabling circulating tumor cells (CTCs) isolation is: highly sensitive, flexible, with broad applications, designed to preserve CTCs for downstream processing, and backed by extensive scientific literature.
The ISET technology is able to extract down to a single circulating tumor cell from 10 ml of blood (which contain approx. 60 billion blood cells), keeping CTCs intact and ready for morpho-molecular analyses, thus providing unparalleled sensitivity and specificity.
ISET also extracts circulating giant cells and tumor cell clusters (micro-emboli) from the blood, without loss.
High specificity: allows the isolation of CTCs without the use of any specific epithelial surface markers antibodies
High sensitivity: detection threshold of one CTC per 10 ml of blood
Valid for all solid tumors
Simultaneous isolation of CTCs and ctDNA from the same sample
Specific ISET buffers for live (for cells culturing) and fixed cells application
Compatibility with downstream processing from cytology analysis to DNA gene mutation and gene methylation detection
ISET Device is CE IVD
Large scientific literature backup
A simple workflow that fits any lab
The ISET© non-invasive testing technology has an intuitive workflow and easily fits into any lab setting.
Blood draw of 10 mL collected in K3 EDTA tubes
 The sample is mixed and incubated with application-specific buffer to preserve the integrity of CTCs and their genome
 The sample is processed on the ISET© Device pressure-controlled filtration system
  The fixed cells on the ISET© membrane (10 spots) are ready for multiplexed downstream processing
 The live cells are processed with a specific ISET buffer and can be collected for downstream processing