The Founder
Patrizia Paterlini-Bréchot
MD, PhD
Professor of Cell biology and Oncology , Director at INSERM, Patrizia Paterlini-Brechot is the founder of Rarecells SAS and Rarecells USA, Inc. In addition to fundamental research studies early in her career, she focused on applied research, targeting the domains of predictive oncology and prenatal diagnosis.
In 2000, her research led to the discovery and development of the now patented ISET® technique for isolation and characterization of circulating tumor and fetal cells permitting predictive oncology and non invasive prenatal diagnosis. Prof Paterlini-Brechot oversees the continuing development of the ISET® technology. Her work was acknowledged by numerous awards and led to high level scientific publications.
Scientific Advisory Board

Dr. Hood Leroy
M.D., Johns Hopkins School of Medicine, 1964 Ph.D., Biochemistry, California Institute of Technology, 1968
Dr. Hood's research has focused on the study of molecular immunology, biotechnology, and genomics.  He won the 2003 Lemelson-MIT Prize for inventing "four instruments that have unlocked much of the mystery of human biology" by helping decode the genome. His inventions include the DNA sequencer that has revolutionized genomics and contributed to the successful mapping of the human genome.His professional career began at Caltech where he and his colleagues pioneered four instruments, which comprise the technological foundation for contemporary molecular biology. In 1992, Dr. Hood moved to the University of Washington as founder and Chairman of the cross-disciplinary Department of Molecular Biotechnology. In 2000, he co-founded the Institute for Systems Biology in Seattle, Washington. His work earned him numerous Awards including the prestigious 2004 Biotechnology Heritage Award, the 2003 Association for Molecular Pathology (AMP) Award for Excellence in Molecular Diagnostics and the Heinz Award in Technology (2006). In 2007 he was elected to the Inventors Hall of Fame (for the automated DNA sequencer). He has published more than 600 peer-reviewed papers, received 14 patents, and has co-authored textbooks. In addition, Dr. Hood has also played a role in founding more than 14 biotechnology companies, including Amgen, Applied Biosystems, Systemix, Darwin and Rosetta.
Joe Leigh Simpson
MD – Chair and Professor
Professor of Obstetrics and Gynecology, Professor of Human and Molecular Genetics, Dr Simpson is the founding Chair at Florida International University Miami, and has served as Chair and Professor in numerous universities in the USA. Besides, he has played leadership roles in many professional organizations. His research encompasses many areas of genetic prenatal diagnosis and reproductive genetics. He was 1993-1994 President of the American Society for Reproductive Medicine, 1994-1998 President of the International Society of Prenatal Diagnosis, 1998-1999 President of the Society for Gynecologic Investigation, 2007-09 President of the American College of Medical Genetics, 2006-09 President of the Preimplantation Genetic Diagnosis International Society and 2007-2010 Treasurer of the International Federation of Fertility Societies (IFFS). He is currently President Elect of the International Federation of Fertility Society. He is a member of the National Academy of Sciences, Institute of Medicine (IOM). He serves on numerous committees, including the NICHD Board of Scientific Counselors (2005-09) and the March of Dimes Scientific Advisory Committee. He has written 15 major books and over 700 articles and chapters.
Frank Anthony Greco
MD
Dr. Tony Greco is board certified in Medical Oncology and Internal Medicine. He has been with Tennessee Oncology since 1993 and practicing medicine since 1976. Dr. Greco specializes in cancers of unknown primary, lung cancer, and germ cell tumors. Dr. Greco holds memberships in the American Society of Clinical Oncology and the Southern Association of Oncology.
He is also a clinical researcher and director of Sarah Cannon Cancer Center and co-director of the Minnie Pearl Research Network. Dr. Greco comes to us from Vanderbilt University Medical Center, where he served as the Director of Medical Oncology and the Cancer Center.
Jean-Yves Blay
MD, PhD
Dr. Jean-Yves Blay is Professor of Medicine at the Université Claude Bernard in Lyon, France, and the Scientific Director of the Canceropole Lyon Rhône Alpes, a network of more than 1500 researchers and physicians working in the field of cancer. He is President of the Executive Committee of the EORTC (European Organization for the Research and Treatment of Cancer), Chairman of the French Sarcoma Group, and Director in the Conticanet Network (Conticanet.eu), a Network of excellence funded by the 6th FrameWork Program of the European Commission.
His research interests focus on clinical and basic research in sarcomas, the biology of breast carcinoma and relation between tumor microenvironment and malignant cells. Dr. Blay is an active member of the European Society of Medical Oncology, the American Society of Clinical Oncology and the American Association of Cancer Research. Dr. Blay serves as scientific committee board member of five Cancer Centers in France. He has been a reviewer for several journals, has published over 220 peer-reviewed articles, in addition to over 200 abstracts and book chapters.
The Management Board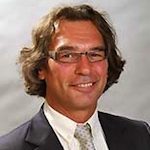 Thierry Baglan
Chief Executive Officer
Davide Bréchot
Deputy CEO

Davide holds a Master of Engineering from Imperial College London in Mechanical and Nuclear engineering, a Master of International Affairs from Sciences-Po Paris and a second Master of International Affairs from Columbia University. Prior to joining Rarecells, he worked in the energy industry on hybrid IT/engineering development projects, first for EDF on nuclear reactor simulations (2010) and then for SourceOne, an energy consulting firm based in Boston, on energy data management tools for two years (2011). Davide also co-founded a startup in the digital space (a mobile application in the food tech sector), for which he served as President and CTO for two years (2013). Davide joined the Rarecells team in 2015 as VP Business Development and had a strategic role in transitioning the historical Research Use Only business model into the diagnostics market in Europe through a strategic partnership. Since 2016 he has been working as COO for the group and has been focusing on the expansion of the operations and the development of service activities. He has also been in charge of product development and the design of a new generation product, as well as overseeing regulatory compliance for the group.
Sébastien Dutoya
Chief Operational Officer

Sébastien graduated from Ecole Centrale Paris with a specialization in industrial engineering. He joined Vallourec, a multinational company specialized in steel tubes mainly for energy industry, and got various operational positions in American and French plants, as corporate internal auditor. Excited by the project, he joined our company at the end of 2018 as COO, to support the development of Rarecells Diagnostics.